Our size chart is different and all measurements in size chart are suppose to be jacket's outside measurements. Please pick a right jacket size after considering body shape and enough room for underneath garments.
How to get your measurements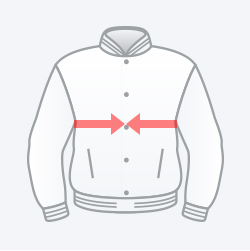 Chest in circumference
This will determine your actual jacket size. With arms down at sides, measure under the armpits, over the fullest part of the chest.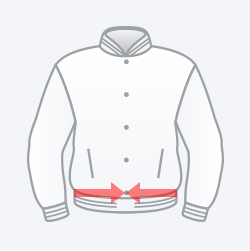 Bottom in circumference
Meausre your bottom in circumference With arms open measure the hips in circumference.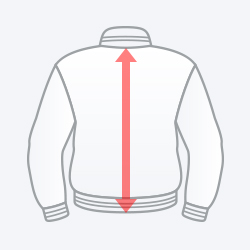 Back length
Hold the tap at collar seam and measure to the bottom of your back (where you want to end the jacket including bottom knit).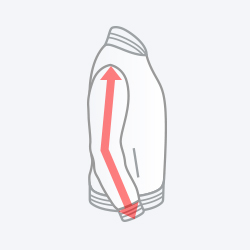 Sleeves Length
Bend your elbow 90 degree and place your hand on your hip. Hold the tap at the end of your shoulder and measure across your elbow and down to your wrist.
View Size Chart In
Your Body Measurements
Jacket Size
XXS
XS
S
M
M/Tall
L
L/Tall
XL
XL/Tall
2XL
2XL/Tall
3XL
4XL
5XL
6XL
Your Chest

71-78

28-30

78-81

30-32

86-91

34-36

96

38

96

38

101-106

40-42

101-106

40-42

112-117

44-46

112-117

44-46

122-127

48-50

122-127

48-50

132-137

52-54

142-147

56-58

152-157

60-62

162-167

64-66

Your Waist

51-56

20-22

61-66

24-26

71-76

28-30

81

32

81

32

86-91

34-36

86-91

34-36

96-101

38-40

96-101

38-40

106-112

42-44

106-112

42-44

117-122

46-48

127-132

50-52

137-142

54-56

147-152

58-60

Your Sleeve

71-73

28-29

76-79

30-31

79-81

31-32

81

32

84-86

33-34

84-86

33-34

89-91

35-36

86-89

34-35

91

36

89-91

35-36

94

37

91-94

36-37

94-96

37-38

96-99

38-39

99-101

39-40
Jacket Measurements
Size
XXS
XS
S
M
M/Tall
L
L/Tall
XL
XL/Tall
2XL
2XL/Tall
3XL
4XL
5XL
6XL
A: Chest

46

18

51

20

56

22

61

24

61

24

66

26

66

26

71

28

71

28

76

30

76

30

81

32

86.5

34

91.5

36

96.5

38

B: Sleeve Length

61

24

62

24.5

63.5

25

65

25.5

68.5

27

66

26

70

27.5

67.5

26.5

71

28

68.5

27

72.5

28.5

70

27.5

71

28

72.5

28.5

73.5

29

C: Across Shoulder

41

16

43

17

46

18

48

19

48

19

51

20

51

20

53

21

53.5

21

56

22

56

22

58.5

23

61

24

63.5

25

66

26

D: Half Shoulder

15

6

16

6.25

16.5

6.5

17

6.75

17

6.75

18

7

18

7

18.5

7.25

18.5

7.25

19

7.5

19

7.5

19.5

7.75

20

8

21

8.25

21.5

8.5

E: Back Length

58.5

23

61

24

63.5

25

67

26.5

71

28

70

27.5

74

29

72.5

28.5

76

30

75

29.5

79

31

77.5

30.5

80

31.5

82.5

32.5

85

33.5