How to get your body measurements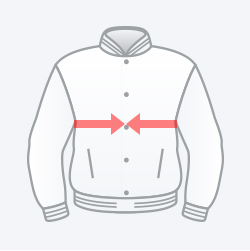 Chest in circumference
This will determine your actual jacket size. With arms down at sides, measure under the armpits, over the fullest part of the chest.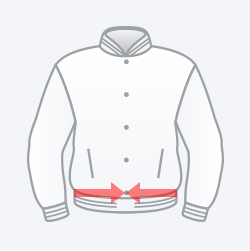 Bottom in circumference
Measure across your natural waistline.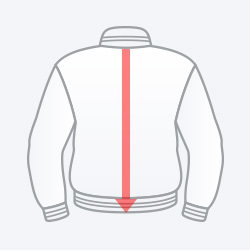 Back length
Measure from the center of the neck at collar seem to the hem edge for back length.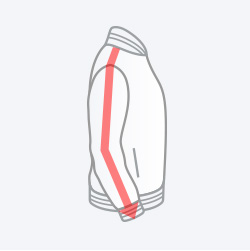 Sleeves Length
Stand up straight with your arms down at your side and measure from your neck to where wrist meets your hand.
View Size Chart In
Your Body Measurements
Jacket Size
A: Your Chest
B: Your Waist
C: Your Sleeve
D: Your Back Length
XXS

71-78

28-30

51-56

20-22

71-73

28-29

58.5

23

XS

78-81

30-32

61-66

24-26

76-79

30-31

61

24

S

86-91

34-36

71-76

28-30

79-81

31-32

63.5

25

M

96

38

81

32

81

32

67

26.5

M/Tall

96

38

81

32

84-86

33-34

71

28

L

101-106

40-42

86-91

34-36

84-86

33-34

70

27.5

L/Tall

101-106

40-42

86-91

34-36

89-91

35-36

74

29

XL

112-117

44-46

96-101

38-40

86-89

34-35

72.5

28.5

XL/Tall

112-117

44-46

96-101

38-40

91

36

76

30

2XL

122-127

48-50

106-112

42-44

89-91

35-36

75

29.5

2XL/Tall

122-127

48-50

106-112

42-44

94

37

79

31

3XL

132-137

52-54

117-122

46-48

91-94

36-37

77.5

30.5

4XL

142-147

56-58

127-132

50-52

94-96

37-38

80

31.5

5XL

152-157

60-62

137-142

54-56

96-99

38-39

82.5

32.5

6XL

162-167

64-66

147-152

58-60

99-101

39-40

85

33.5
Jacket Measurements
Size
A: Chest
B: Sleeve Length
C: Across Shoulder
D: Half Shoulder
E: Back Length
XXS

92

36

61

24

41

16

15

6

58.5

23

XS

102

40

62

24.5

43

17

16

6.25

61

24

S

112

44

63.5

25

46

18

16.5

6.5

63.5

25

M

122

48

65

25.5

48

19

17

6.75

67

26.5

M/Tall

122

48

68.5

27

48

19

17

6.75

71

28

L

132

52

66

26

51

20

18

7

70

27.5

L/Tall

132

52

70

27.5

51

20

18

7

74

29

XL

142

56

67.5

26.5

53

21

18.5

7.25

72.5

28.5

XL/Tall

142

56

71

28

53.5

21

18.5

7.25

76

30

2XL

152

60

68.5

27

56

22

19

7.5

75

29.5

2XL/Tall

152

60

72.5

28.5

56

22

19

7.5

79

31

3XL

162

64

70

27.5

58.5

23

19.5

7.75

77.5

30.5

4XL

173

68

71

28

61

24

20

8

80

31.5

5XL

183

72

72.5

28.5

63.5

25

21

8.25

82.5

32.5

6XL

193

76

73.5

29

66

26

21.5

8.5

85

33.5